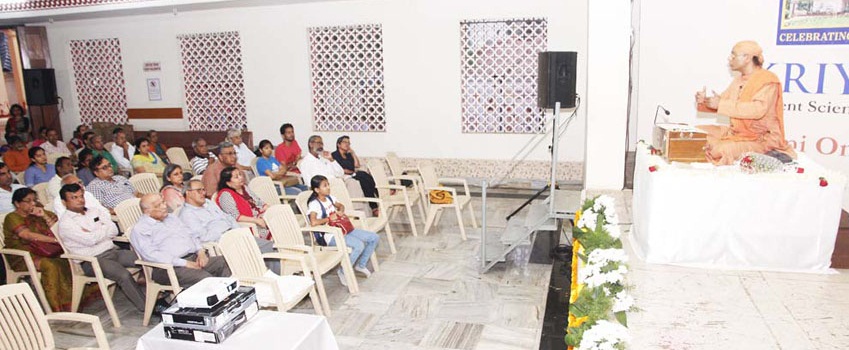 Yogoda Satsanga Society of India (YSS) was founded by Sri Sri Paramahansa Yogananda in 1917. The mission of YSS is to make available to all the ancient scientific teachings, and meditation techniques of Kriya Yoga for achieving all-round success, well-being, and a direct personal experience of God. YSS has more than 200 centers across India to help all Truth-seekers to experience the power of group meditations and to share in spiritual fellowship. Yogoda Satsanga Dhyana Mandali - Goa is situated in Porvorim in PDA colony surrounded by lush greenery and overlooking the beautiful Mandovi River.
History
Goa Dhyana Mandali was started by a small group of devotees who met regularly for meditations. In 2000, Swami Nirvanananda and the then Brahmachari Omkarananda visited Goa and conducted satsanga in Vasco. It was then decided that henceforth, regular meditations will be conducted in North Goa at Sri Savio Dsouza's residence in Porvorim on every first Sunday of the month and in South Goa at Lt. Cdr. C. T. Joseph's residence in Vasco on every third Sunday. This continued for 12 years.
In March 2012, Swami Madhavananda and Bramhmachari Shreyananda visited Goa to conduct a monastic program. Thereafter, as the number of devotees grew over the years, a need for bigger premises was keenly felt. To accommodate the growing number of devotees, in 2014, the meditation centre shifted into the presently held premises in Porvorim.
Activities
All YSS commemorative functions are held at the Dhyana Mandali in Porvorim. Porvorim Mandali also has affiliated sub-centre at the house of Dr. Purushottam K. Ghodge in Mugali, off Margao, where group meditation is held on every Thursday evening. Dr. Purushottam Ghodge is one of the earliest devotees of YSS in Goa.
The Porvorim Mandali welcomes all the devotees for group as well as individual meditations. The schedule for conducted group meditations is given below.
Group Meditation Schedule at
Porvorim Dhyana Mandali
Thursdays: 7:00 pm to 9:00 pm

Sundays: 10:00 am to 12:00 pm

First Sunday of Every Month: 9:00 am to 1:00 pm
Sub-Center, Curtorim
Thursdays: 6:00 pm to 8:30 pm
The Mandali office is open on Sundays and Thursdays after the meditation hours. The office primarily attends to sale of various books and publications from YSS, subscriptions of Yogoda Lessons and magazines, and addressing inquiries related to YSS activities and other office work.
Library
A library is located within the premises of the Mandali, offering inspirational teachings of YSS including those books written by Paramhansa Yogananda. Other offerings include audio and video talks, chants and devotional bhajans, photos, and other devotional articles. The library is open after the meditations hours on Sundays and on Thursdays and after special functions.
Address
Yogoda Satsanga Dhyana Mandali- Porvorim
B-201, Second Floor
Nikita Enclave, PDA Colony
PORVORIM - 403521
Dist. North Goa, Goa
Email: [email protected]
Phone: 9423183317, 9811558212.
Sub Center, Curtorim
C/o Dr. Purshottam Ghodge
House No. 852/D, Mugali
CURTORIM- 403709
Dist. South Goa, Goa
Phone: 9168798378